I think to create new things is in my blood.
Back then, I knew if I were to end up in the technical industry, I have emphasized strongly that I would want to be in R&D. I got my "official" first job as a Product Technologist with Nestle.
Of course launching and coming up with new stuffs has its own sacrifice. People like me put in more effort, time, sweat, tears and blood. As much as we sometimes curse, swear and yell, deep down inside that unimaginable and indescribable feeling of pride, joy when we see our products on shelves ready for consumers, it's a reward no money can buy.
I think we can also see the effect of product innovation when we compare life a mere 50 years ago till now. Of course we have yet to achieve time travel or go round places on "real" hover boards, the very improvements of the internet and smartphones have propelled us so much further in life as we embrace the very unknown of the future.
I am enthralled at new products in every possible way. Be it with tech, science, food, services, successful new stuffs with great impact has never failed to excite me. But let me focus down to the very basic innovations that I think are simple and mindblowing - Food.
Back then when we were cave men, the very basic rule of thumb of survival was "eat to live". But as we progressed, clearing out forests and building our own concrete jungles where we reigned supreme(sarcasm), eating became a choice. Eating become an enjoyment. Eating became an indulgence.
And that is why whoever able to come out with mind blowing awesome tasting food are the very champions in food innovation and renovation.
To go deeper, rather than focusing science and technology on the improvements on manufacturing, I would want to just focus on recipes. Simple ingredients that serves as a reminder - To innovate does not require fancy stuffs and requirements. Most of the time we have to keep it simple.
1. myBurgerLab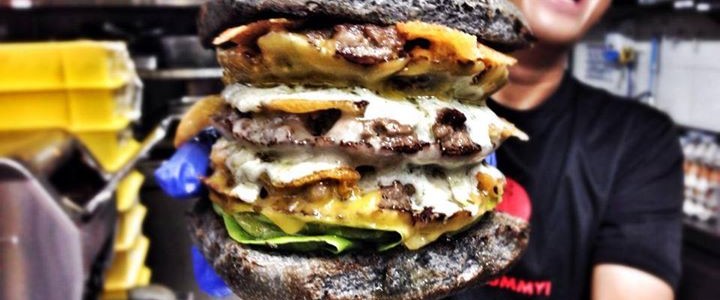 Where else can you find a burger restaurant coming up with wacky and funky burger recipes? The awkward moment you find the combination so weird when you read the menu but tastes so EPIC when you get your first bite? I am fortunate to have went to a talk hosted by Renyi, telling a story on how 3 guys without any culinary knowledge perfecting the art of making burgers in friggin'
10 DAYS!
And Renyi himself admitted that myBurgerlab is an innovation machine that has never failed to churn out different recipes time to time to maintain their strategic advantage over other burger joints.
Fun fact - Every burger itself is a chicken/beef + cheese burger (well apart from the vegetarian burger). What makes each burger stand out is the additional ingredients. KISS indeed!
2. Roti Tiga Rasa (from Original Penang Kayu Restaurant)
The famous mamak store's roti tiga rasa is the perfect example of Steve Job's quote -
"
A lot of times, people
don't know what they want
until you show it to them."
How so? Imagine taking a small piece of roti tiga rasa and not knowing what it is. Is it the kaya portion? Or the margarine portion? Or the egg? Or a combination of all 3? It is the very best twist and combination of Roti Planta, Roti Telur and Roti Kaya. It is also one of the few examples where sweetness and saltiness can go so well together, to deliver the "WOW" factor. If you want to know, that is my favourite Roti. Hands down.
3. Fluffed
I don't always eat waffles. But when I eat do, I know whether if its good enough to be "Legend - wait for it - Dary"
Fluffed is indeed glorious. Apart from the quirky names, their waffles are stupendous! I have only been there for one time only and yet can't wait to go for the 2nd, 3rd and 4th time until I try all of their waffles. Special and signature enough. The burgerlab of the waffle category. Nuff said.
4. LEGO
Haha! You thought it was going to be another food post huh? GOTCHA
I remeber LEGO back then when I was a child. Endless creations by just putting bricks together. No matter how limited the blocks were back then (compared to these days), it has never put definite boundaries to creativeness.
But as the years goes by, more and more types of bricks came out. That further amplifies and extend the endless possibilities that the LEGO brick hold. Think about building a Millenium Falcon or Batman's Tumbler with LEGO bricks
"Capital isn't so important in business. Experience isn't so important. You can get both these things. What is important is ideas. If you have ideas, you have the main asset you need, and there isn't any limit to what you can do with your business and your life."

— Harvey Firestone